From 5 to 25 March, dishes prepared with Caviar Nacarii from the Val d'Aran can be tasted in different restaurants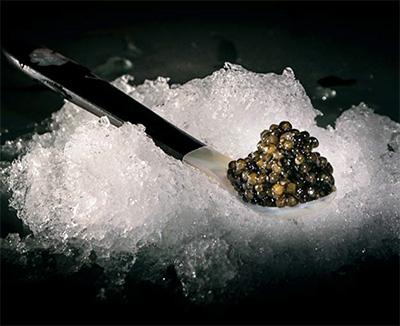 During Caviar Month, this gastronomic gem of the Pyrenees will join the tables of fifteen renowned Aranese restaurants. De Pitona, Era Mòla, Eth Triton, Roc'n'Cris, Wellbourne, Era Coquèla,Es Arraïtzes, La Trastienda, Liat.Hotel Tuc Blanc, Pinchos e tapes Baqueira 1500, Borda Benjamin, Del Gel al Foc, El Molí, Eth Bistro y Pirineu Gourmet.
Caviar and sturgeon cooked in all their forms will be present in their menus. From appetizing entrees to more forceful dishes lSweet desserts that incorporate this prized product will not be lacking either.
alternative activities
Culinary experiences can be accompanied by other activities. Among them it is proposed a visit to the factory of Les to know the history and process of elaboration, to taste caviar in the shop of the center of Vielha or to submerge in the waters of the thermal baths Barony of Les and to know the treatments elaborated with caviar of the Val D'Aran.
The month of caviar is organized by the Conselh Generau d'Aran, with the collaboration of Caviar Nacarii and the Grèmi d'Ostalaria dera Val d'Aran.
AUTHENTIC AND FRESH FLAVOuR
Nacarii Aranian caviar, which has been recognized by chefs and gastronomes for its authentic taste, freshness, purity and transparency, is included in the Guarantee Val d'Aran brand. From the cold, pure and crystalline waters of the thawing of the Garona, the Nacarii caviar, is made in a traditional way and with traditional methods in the fish farm located in the town of Les.
Download the Program of the Mes del Caviar en la Val d'Aran 2018.
España directo in the Caviar Nacarii fihs farm.