From 7 to 11 March, Telemark&Skimo 2018 returns to Val d' Aran. The ski resort of Baqueira Beret will host this event that includes a varied program of activities such as exhibition and material testing, talks, courses, guided tours, among others.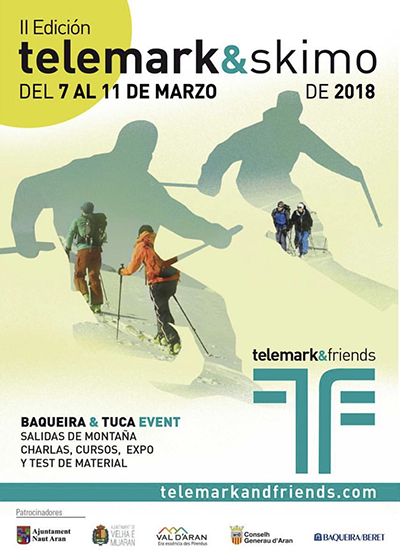 Within the extensive programme, the event includes a practical course on safety and avalanches given by Jordi Gavaldà, head of the Centre de Predicción de Lauegi deth Conselh Generau d' Aran. Also, this edition will once again feature the presence of mountaineer Oscar Cadiach among the guides, who will share his mountain experiences.
In addition, Telemark&Skimo 2018 will feature Telemark group classes, guided tours, cross-country skiing outings, gastronomic encounters and video projections. On Saturday 10, the Telemark and Friends dinner will be held at the Salardú Sports Centre, for all participants. A barbecue will end the event on Sunday the 11th.
From the Telemark&Friends website you can register for the different events of the program.
TELEMARK, A MAJOR CHALLENGE
The Telemark is a ski technique born in 1825 by Sondre Norheim, considered the father of modern skiing. The most remarkable feature of this technique is that the heel is not fixed to the board, being necessary to kneel on the skis when making turns. The telemark provides greater freedom of movement than conventional mountain skiing and, due to its complexity, a greater challenge.
We leave you with the previous video edition:
Translated with www.DeepL.com/Translator