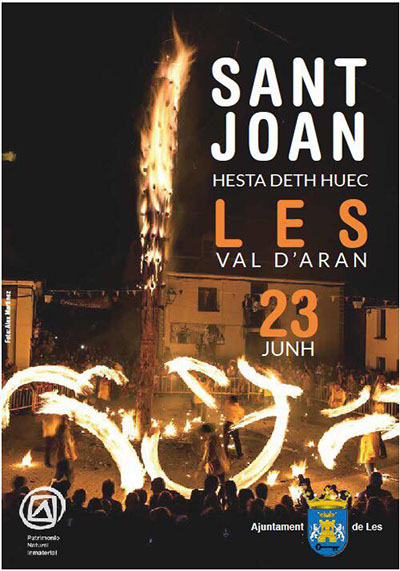 The stage of the ritual is the Plaça deth Haro, where about 10 pm the procession reaches the rhythm of traditional dances is Corbilhuèrs Les. After the blessing and lighting of haro by the local priest, we proceed to burn the halhes, a kind of torches made of cherry bark that are spun in circles and simulating the struggle to purify and burn the evil spirits. The ceremony ends with a dance around the haro, while is served the "vin caud" hot wine with sugar, rum and fruit that is takent with the traditional coca de Sant Joan.
A few days later, on June 29, takes place the "quilha deth haro", in which is planted the new Haro. The newlyweds are honoured to distinguish with a wreath, as a rite to ask for fertility. This tree presides over the old square for a year, until the next San Juan.
Likewise, the second Saturday in May the town celebrates the "Shasclada" the magic moment when the tree becomes sacred. It should be noted that lifting the haro is performed with the same technique used primitive man to straighten menhirs.
Download the Program of the Crèma deth Haro de Les
Origin and development of ritual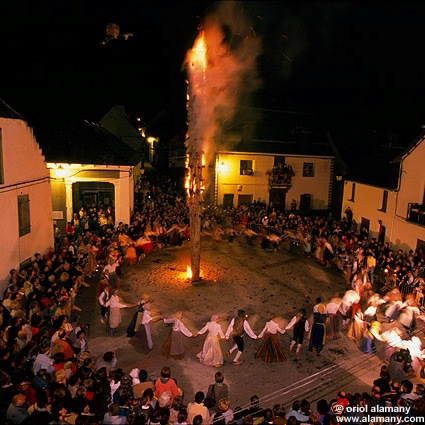 Since ancient times, when the summer solstice arrived, were held in the Pyrenees four very widespread rites: the purifying fire through the halhes and haros; taking the dew especially for its miraculous virtues; collect the plants that have received the dew and that also acquire healing properties, and playing hide on a night in which the woman was equal to man and had everything allowed.
The rite of fire, which has its beginnings in pagan ceremony that was made in honor of the Sun God, -called Abelio in the Val d'Aran and Cominges- eventually joined the Christian tradition and in some localities has remained to this day. It involves burning trunks during the shortest night of the year and the fire symbolizes the change of the solar cycle when the decline of the day begins. Les and Arties, trunks called Taros an haros are trees of about 12m high.
With this ritual is pursued, purification and burning evil spirits -which in the Val d'Aran we call "erulets"- and everything that brings misery and disease to humans and animals. A portion of the coal and ash was carried to houses and stables to spare evil, and some orchards and fields to ask for good harvest.
In December of 2015, the Intergovernmental Committee of UNESCO has declared the Hèstes Der Huec of the Pyrenees as Intangible Heritage of Humanity. This documentation includes 63 fire festivals held during the summer solstice in the Pyrenees, including the crèma deth Haro de Les and la crèma deth Taro d'Arties, both in the Val d'Aran.