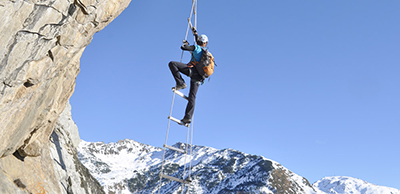 An iron road is a sport itinerary traced on a rocky massif equipped with wire, staples, steps and different elements to facilitate security. This is an aerial tour and occasionally athletic. To use these facilities you must be prepared physically and technically and follow the rules of use.
There are three iron roads with different routes and levels of difficulty in the Val d'Aran: Iron road of Les, Iron road of Poi d'Unha and Iron road of Cledes in Les, the latter newly opened this season.
Equipment
To access to the iron road you must wear helmet, harness, lanyard with sink approved for iron roads and gloves.
In addition, it is advisable to wear hiking boots and a backpack with water, mobile, first aid kit, headlamp, etc.
Recommendations
It is necessary to take into account the conditions of the mountain before climbing.
You must have insurance to cover own damages and those that may be caused to thirds.
It is recommended a training course in progression techniques and safety in iron roads.
Hiring the services of a mountain guide allows you to discover the pleasure of verticality in a safe way.
Iron road of Les
Itinerary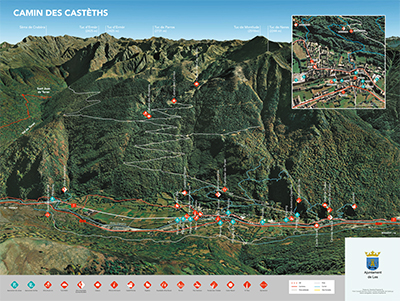 It is located in the municipality of Les (behind the camping Cauarca). It is accessed through the path that goes to the right, after about 100 meters after the campsite entrance. The return to the village of Les can be done by the way of Soberpèra, or the way dera Carraspa. Both have been especially recovered for having an easy access.
The total length of the facility is 450 meters, divided into two tracks: the lower only for experts, and thesuperior to all audiences. The tour also includes an 11 meters Tibetan bridge, with a drop of 200 meters. The total estimated time for the full itinerary is about 3 hours.
Although the Iron road is free, it is compulsory to wear special safety gear and have a certain technique, so it is an ideal activity to do it with a guide .
Information
Slope: 150 meters iron road
Route: 450 meters
Rise time: 3 hours
Lowering time: 1 hour
Difficulty first section:
medium-difficult
Difficulty second section:
Easy
Iron road Torre de Cledes
Itinerary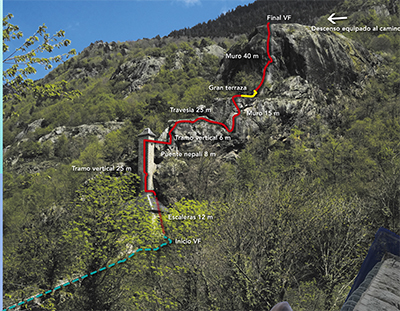 The first part exceeds the spectacular Tower Cledes and leads to the large terrace, level of initiation, with 35 meters long to the bridge. Then you enter the section of the vertical tower with abundant staples, very aerial, on the edge of the tower to reach the 8 meters Tibetan bridge. The bridge, with metal platforms on both sides for comfort, leads to a vertical wall. After a small decline, ascend a nice wall to a ledge of 0 meters long.
From the large terrace, is overcoming a vertical wall of 42 meters with varied and vertical steps, and a final ramp to the top of viewpoint.
Descent: From the viewpoint to the south there is a lifeline that leads to the marked way down.
Information
Slope: 80 meters iron road.
Approach: 2 minutes
Route: 125 meters
Length: 30 minutes to 1 hour.
Orientation: South West
Descent: 10 minutes.
Level: Initiation. K2 children from 110 cm height.
Poi d'Unha iron Road
Itinerary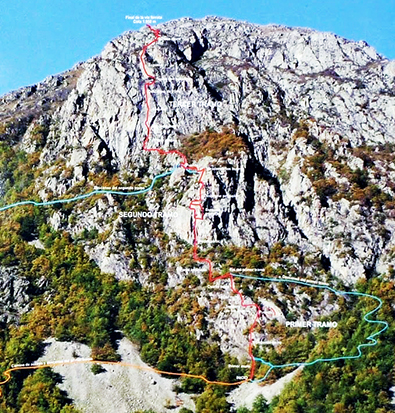 The Poi d'Unha iron road has a distance of 800 meters and a total slope of 500 meters, so it is one of the longest in Spain. Among the main features of this facility there are several Tibetan bridges and a spiral staircase that makes it more attractive.
The iron road consists of three sections:
First section: About 150 meters long, mainly aimed at beginners in this activity, especially children.
Second section: In this section we find a vertical and a ladder that can be avoided through a variant. This section also has a 20 meters Tibetan bridge, which can also be avoided.
Third section: This section has a real wall with plaques and a 20 meters drop.
Approach and descent are marked orange and escapes blue.
The Poi d'Unha is at 2,221 meters altitude. From the top you can see the peaks of Maladeta and Aneto.
Information
Route: 775 meters
Elevation gain: 500 meters
South orientation
Approach: 25 minutes
Duration: 3 to 4 hours
Descent: 1 hour
Difficulty:
First section: initiation
Second section: Difficult
Third section: Difficult
Parking Unha. 1350 masl.
Information and reservations: