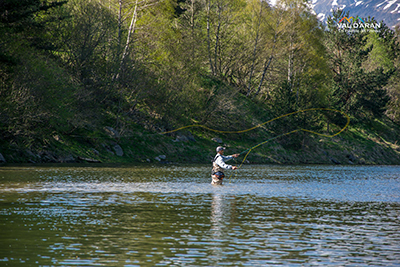 On Sunday 24 March, the Governing Council of the Conselh Generau d'Aran kicked off the fishing season in the low mountain areas of the Val d'Aran for the period 2019. This includes the whole Garonne river from Baqueira to the border, the Aiguamòg Dam, the Bassa d'Oles and the rivers Nère, Casau, Varrados, Joèu, Sorieus, Margalida, Bausén, Toran and Carlac.
In the high mountain areas the season begins on the 1st of May and includes the rivers Ruda, Malo, Aiguamòg, Unhola, Valarties, Rencules, Bargadera, Noguera Ribagorzana and Noguera Pallaresa. And, as for the high mountain lakes, most of the lakes present in the Aran Valley, the season begins on 1 June.
In total the Val d'Aran offers 47 km stretches of fishing without death, 125 with death and 18 lake areas with more than 65 fishable lakes.
The license of recreational fishing Aranesa can be obtained in the Consèlh Generau d'Aran or in the web of the same Consèlh through the link http://licenciapesca.conselharan.org.
More information in the Val d'Aran Fishing Brochure 2019
Translated with www.DeepL.com/Translator