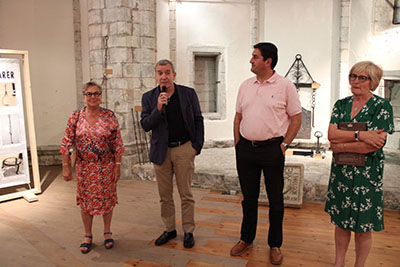 The Sant Joan de Arties exhibition hall hosts the exhibition "Er art der harga" (The art of forging), organised by the Private Foundation of the Val d'Aran Ethnological Museum in collaboration with the Val d'Aran Museums. The exhibition can be visited from Monday to Saturday from 17:00 to 21:00h until 28 September.
The inauguration was attended by the Síndic d'Aran, Paco Boya, and the president of the Val d'Aran Ethnological Museum Foundation, Rosa Mari Salgueiro, who were accompanied by the councillor Angelina Casas and the mayor of Naut Aran, César Ruiz Canela, among others.
Most of the objects on display come from the small craft workshops in Aran. The exhibition contains 109 photographs showing his forge work, in elements such as balconies, grilles, doors, windows, doorknobs, knobs or keys. You can also see tools from the homes of the houses, irons, burners, blowers, three feet, or tools for field work such as pitchforks, pliers, mousetraps, and others to mark the animals.
Entrance to the exhibition is free of charge.
Translated with www.DeepL.com/Translator