The Marxa Beret, which this year reaches its 40th edition, will be held on 2 and 3 February in Baqueira Beret, the ski resort of Val d'Aran.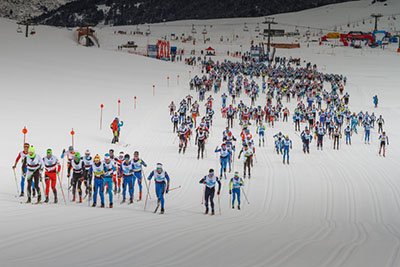 On Saturday, February 2, will take place the Sprint Salomon, which in this edition will be "Championship of Spain Sprint" in the modality of free technique. On Sunday, February 3, the 40th edition of the Marxa Beret will take place with the distances of: 42, 21 and the popular 10km. This race is included in the FIS calendar of popular races, the Spanish Long Distance Championship and the Spanish Cross-country Ski Cup.
The Marxa Beret is one of the most consolidated Nordic ski races in Spain, with more than 1,000 participants from all over Europe every year.  This popular march is intended to become the Nordic ski festival. To do this, the organization composed of the Conselh Generau d'Aran and the ski resort Baqueira Beret, has proposed a series of events parallel to the Marxa Beret which aim to all its participants and followers enjoy a pleasant weekend in the Val d'Aran.
Online registrations must be made through the Marxa Beret website until 1 February. In addition, all those who register before 14 January 2019 will enjoy a reduced rate. Face-to-face registrations will take place at the Shelter in Salardú on 2 February.
Information: www.marxaberet.com.