The Val d'Aran ski station offers more kilometres, gastronomy and fun fort he 2019-2020 season
Baqueira Beret, the Val d'Aran seki station, has announced a winter full of new developments designed to improve the skier's experience. Among the main updates for the 2019-2020 season, skiers will now enjoy the new Eth Coret run which brings the resort to 167 km, extensive renovation to dining facilities, improved snow production, the ski pass with BaqueiraPASS advantages and the new app.
167 kilometres of slopes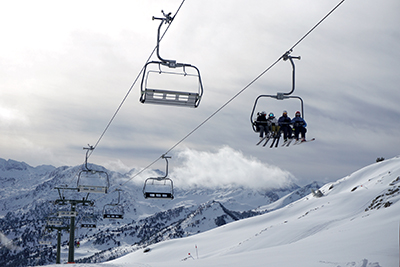 Skiers and snowboarders will enjoy more kilometres this winter thanks to a new red slope at Baqueira Beret: Eth Coret. It starts at the bottom of the Baciver ski lift and goes all the way to Orri. With a distance of 1,496 m, it provides a comfortable connection from the Baciver area to Orri alongside spectacular views of Cara Nord de Baqueira.
Meanwhile, specific areas of the resort were updated over the summer: the Peülla, Pleta del Duc, Cap a Baqueira and Debutants runs have been redone, taking advantage of the snowmaking system. Likewise, runs in the Baciver area and improvements to the Terrain park located in Beret have been completed.
With a total of 112 marked runs and 3 off-piste runs, the total distance will be 162 km of marked runs and 5 km off-piste. In total, 167 skiable kilometres are spread over an area of 2,273 ha.
50 new snowmaking machines
Baqueira Beret has expanded the snowmaking area on the Bonaigua, specifically on the Debutants and Cap a Baqueira runs and at the access to the Tuc de la Llança ski lift and the Pleta del Duc and Peülla runs. This enhancement translates into a total of 50 new snowmaking machines to guarantee snow in key areas of this section. Currently, the total number of snowmakers stands at 710, with the capacity to cover half of the resort's slopes.
BaqueiraPASS
BaqueiraPASS is the new Baqueira Beret ski pass card that offers skiers greater comfort and convenience by adapting to their needs. Its main advantade is that you can add credit for a whole season or for a few days and it is not necessary to come in person to one of the booths.
Dining
Baqueira Beret is much more than a ski and snowboard resort, thanks to a wide culinary offer that is perfect for all palates, even the most discernible. Visitors can enjoy 25 restaurants and cafés on the slopes, 5 of which are themed and emanate authenticity.
Technology
A new app (available for Android and iOS) has been created with enhanced features, including geolocation, a new 3D trail map and the option of booking at the resort's restaurants. The daily Trail Preview has also been updated, making it easier to read.
Events
At the international level, the U16 OPA-Alpen Cup alpine ski competition will be held from 11 to 13 February. Here, visitors can witness future World Cup talents. A night-time show in collaboration with Audi e-Tron LEDs will also be held on 28 December as the Christmas holiday season is in full swing. Lastly, the Movistar Spain snowboard cross, ski cross, slopestyle championships will be held in Beret from 27 to 29 March with the best riders in Spain going for gold.