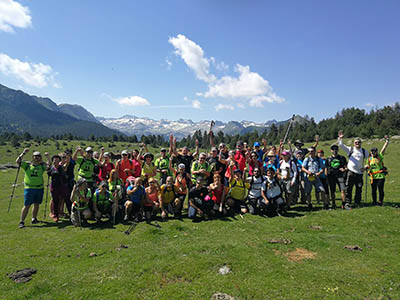 From24 to 30 august the third edition of the Val d'Aran Walking Festival will take place, the great hiking event of the Val d'Aran. Walkers and nature lovers from all over come every year to enjoy the landscapes, culture, heritage and gastronomy of Aran. A team of professional guides is in charge of leading the routes through emblematic places.
In this third edition, 27 mountain hiking routes of different levels and routes have been designed, and 5 thematic hiking routes, one of which is by night. The packages include all the services and activities of the Festival and can be for the whole week, 5, 4, 3 days or a weekend.
Among the excursions there will be no lack of classics to such emblematic places as the Colomers Lakes, the Historical Route of Port de Vielha, the Camin Reiau that links the villages of the Valley, or stargazing.
The excursions will be combined with cultural visits to the Romanesque heritage and ethnographic museums of the Val d'Aran. There will also be gastronomic tastings of local products as well as tasting of artisan beer in Bossòst, and other typical drinks of the Val d'Aran.
At the beginning of the linear excursions, transport will be provided from the meeting point in Vielha, as well as taxis on the excursions in the National Park. In the circular type excursions, the access at the beginning of the excursion is done with the own car.
The Festival is sponsored by Foment de Torisme Val d'Aran, Conselh Generau d'Aran and Ajuntament de Naut Aran. It has the collaboration of the Town Councils of Vielha, Bossòst and Les, craftsmen and producers of the valley and various sports companies. IDAPA is also among the collaborators.
Download here the Program of the 3r Val d'Aran Walking Festival
Information and reservations:
CAMINS – festival@camins.net Telefonos: 973,64.24.44 – 616.33.56.91
Avenida Pas d'Arro, 5 – Bajos. www.camins.net
Translated with www.DeepL.com/Translator (free version)