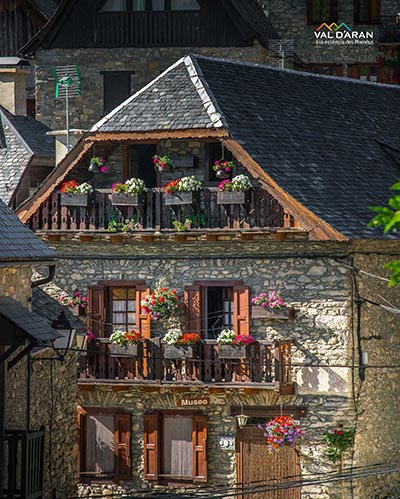 Bagergue, Arties, Canejan-Val de Toran and Vilac begin to sprout again to offer, during next summer, their most flowered image. The four Aranese localities participate in the Viles Florides project, which aims to enhance the natural wealth and landscape of the territory through public recognition of all those projects of landscaping, floral ornamentation, street furniture and recreational spaces.
The Aranese localities have done a good job, both in the public spaces dependent on the consistory and in the private ones, for which they have achieved the involvement of the majority of the neighbours. Each one, in its own style, is sowing the streets with flowers. In the summer 2018 edition, Bagergue revalidated its 4 flowers of honour, Arties obtained 3, Canejan 1 and Vilac applied for a visit from the jury in 2019.
According to Marc Tarrau, mayor of Bagergue, a pioneering Aranese town in this project, "Viles Florides has been a revulsive for the improvement of green spaces in Catalonia, an initiative that has motivated many towns and cities in the improvement of urban space. And also the improvement of the quality of life of the neighbours of the different municipalities that make up the Viles Florides movement. Transforming this movement into a tourist attraction of our villages is a primary objective, a seal of quality that serves as an attraction to attract more visitors.
FLOWERS OF HONOR
The "viles florides" stand out for their real, conscious and long-lasting action in terms of landscaping, urban landscape and improving the quality of life of their citizens. Its cataloguing is decided by a jury specialised in nursery, gardening, landscaping, urban furniture and other related fields.
La Flor d'Honor -ran from one to five- is the recognition that certifies them as "viles florides". Among the most valued aspects are the vegetable and landscape heritage, the resources allocated to its maintenance, the diversity of the region or the functionality of the green spaces, among others. It also takes into account respect for the environment and sustainability, as well as the social use given to it and synergies with tourism.
Viles Florides is an initiative of the Confederation of Ornamental Horticulture of Catalonia (CHOC) that promotes the transformation of corners, towns and cities of Catalonia through the green plant. For the movement, ornamentation goes beyond providing pleasant spaces and works to improve the quality of life of neighbors, social awareness through sustainable policies or the development of local economies through the attractiveness of parks and gardens.