Different restaurants in Val d'Aran will be offering dishes prepared with Caviar Nacarii de la Val d'Aran from 4 to 24 March.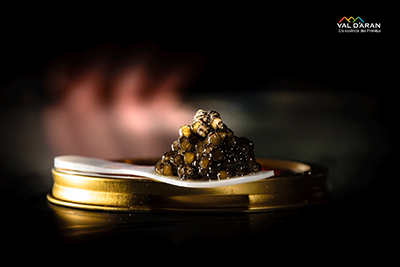 During Caviar Month, this gastronomic jewel of the Pyrenees will be added to the tables of eleven renowned Aranese restaurants.. Del gel al Foc (Rafael Hoteles), Café nuevo, Era Coquela, El italiano, Ticolet, Es Arraitzes, Wellbourne, Era Mòla, Lits, Borda Benjamin y El Molí will be spread out over three weeks.
Their menus will feature caviar and sturgeon cooked in all their versions. From suggestive starters such as truffled egg yolk with avocado cream, crayfish and caviar Nacarii to more forceful dishes such as sturgeon from the Val d'Aran cooked in multiple forms: marinated, confit, grilled, rustido or papillote.
Alternative activities
Culinary experiences can be accompanied by other activities. These include a visit to the Les factory to learn about the history and production process, taste caviar in the shop in the centre of Vielha or immerse yourself in the waters of the Termas Baronía de Les spa and learn about the treatments made with caviar from the Val d'Aran.
The month of caviar is organised by the Conselh Generau d'Aran and Torisme Val d'Aran with the collaboration of Caviar Nacarii and the Grèmi d'Ostalaria dera Val d'Aran
AUTHENTIC AND FRESH FLAVOUR
The Aranese caviar Nacarii, which has been recognised by chefs and gourmets for its authentic flavour, freshness, purity and transparency, is included in the Val d'Aran Guarantee Brand. Caviar Nacarii, which comes from the cold, pure and crystalline waters of the Garonne melt, is produced using traditional methods in the fish farm located in the municipality of Les..
Download the Program of the Mes del Caviar en la Val d'Aran 2019.